Student Council Introduces Valentine's Day Fundraiser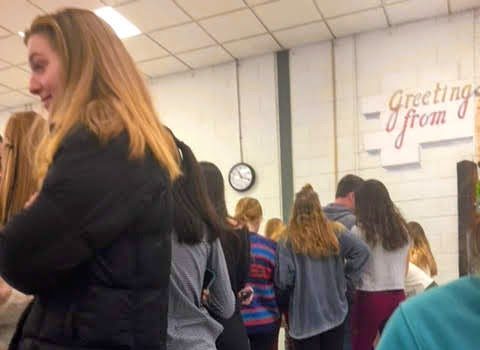 Student Council introduced a new Valentine's Day fundraiser in which students could order roses and candy and have them delivered to other students or teachers on Valentine's Day this past week. This successful fundraiser not only brought in a significant amount of profits for the club, but also spread Valentine's Day spirit across the student body throughout the holiday.
Over the past few years, Student Council has hosted a number of holiday-specific events, including a previous Valentine's Day "matchmaker" survey fundraiser in which students could take an online personality quiz and purchase a sheet that matched them with other students who responded similarly. These holiday events, though different each year, aim to spread holiday sprirt across the school in addition to benefiting the student council. Student Council decided to test out a new Valentine's Day fundraiser this year in hopes of achieving both goals.
Starting on February 12, students were invited to purchase a pack of candy for $2 or a rose for $3 to be delivered to a friend during all three lunches on February 12 and 13. Students attached notes to their delivery where they could write the recipient's name, a message, and their name. A number of students chose to deliver their messages anonymously, however.  
On Valentine's Day morning, Student Council volunteers walked from class to class and delivered the purchased candy and roses to their recipients. Students shared their notes and enjoyed their candy or their roses. Since the festivities began during homeroom, the Valentine's Day spirit continued through the rest of the day as students continued to show off their messages and roses.
In addition to spreading Valentine's Day spirit across Hingham High School, this fundraiser, like all of Student Council's fundraisers this year, is for a good cause. At the end of the school year, Student Council plans to donate their funds to NephCure.
This fundraiser turned out to be extremely successful and one of the most impactful fundraisers this year. According to one of the organizers of the event, as well as a committee head of the Fundraising Committee of Student Council, Molly Bombard, Student Council "made around $1,043."
However, Bombard continued, "We had to buy all the flowers and chocolates." Nevertheless, this impressive total will surely support a cause very important to Hingham High School.
The fundraiser was also victorious in terms of school spirit. Junior Claire Schnorr commented, "Everyone was so excited throughout the day… it was all anyone was talking about."
Clearly, students enjoyed the new fundraiser. Due to the success of the event, it is likely that the fundraiser will return next Valentine's Day. Although Student Council has held different Valentine's Day-themed fundraisers in past years, the triumph of this year's fundraising may lead to a continuation of the event.
Student Council's next fundraiser will be the annual Mr. and Ms. HHS competition, which will be held in the auditorium. As for all Student Council events, proceeds will go to NephCure.