Talent Expo Takes On Country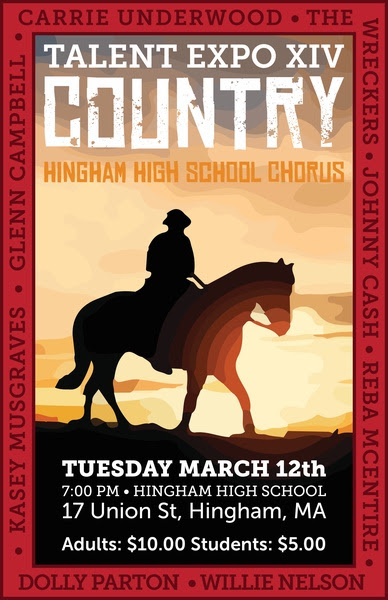 On Tuesday, March 12th, Hingham High School's chorus hosted its talent expo. Talent Expo is a tradition that has lasted for 14 years at HHS. It takes place annually in March and is used to help chorus students and spectators alike get through the long winter.
"March is a long month, and it's cold, and everybody wants spring to come. Talent Expo helps us get to April," stated Dr. Young, Hingham High School's chorus teacher.
Each year, a theme is selected and chorus students perform songs within the theme. This year's theme was country. Students performed songs from a variety of country artists including, but not limited to, Johnny Cash, Willie Nelson, Hank Williams, and Dolly Parton.
The Talent Expo consists of two main sections: chorus performances and special acts. Hingham High School has four different options for chorus students, consisting of Concert Chorale, a group of primarily freshman and sophomores; Chamber Singers, a select group of Concert Chorale students; Mixed Chorus, a more selective group of highly talented sophomores, juniors, and seniors; and Senior Choral Spectrum, an audition group for those in Mixed Chorus. Each of these groups performed a song at the Talent Expo. The songs fit the theme of old country music and were selected by Dr. Young. All of the performances included solos by various Hingham High School students including freshman Willa Davis, sophomore Carter Anderson, junior Olivia Barbuto, and sophomore Michael Leary. The concert concluded with a performance of "On the Road Again" sung by both choruses, during which junior Nick Capodilupo performed a wonderful solo.
As great as the choral performances are, the real draw of the Talent Expo is the special acts. Special acts are individual or group performances done by chorus students. They are selected by the students and are prepared completely independently of Dr. Young. Two weeks before the Talent Expo, a night of auditions is held. There, students vote for whom they think is the most prepared and ready to perform. Those who are selected get to showcase their act during the Talent Expo. This year had a wide variety of special acts, including students forming their own bands, playing guitar or piano, and singing duets.
The Talent Expo tradition has been enjoyed by many for years. Over time it has held many themes, beginning with the Beatles, including Motown, Broadway, and Disney. Students are very excited for next year's theme of female singer/songwriters from the '60s and '70s.
When asked what he enjoyed most about Talent Expo, sophomore Aidan Murphy, who performed in a special act, stated that "[Talent Expo] is just different from everything else we do and personally I enjoy performing the type of music that I like to play in a school setting." Hingham High School chorus students agree with Murphy. They think that Talent Expo is a great opportunity to explore different kinds of music and perform the music that they enjoy in a school setting.
This year's Talent Expo was a great success and students look forward to many more in years to come.