Tiger Regained His Roar: A Golfing Great Returns to the Top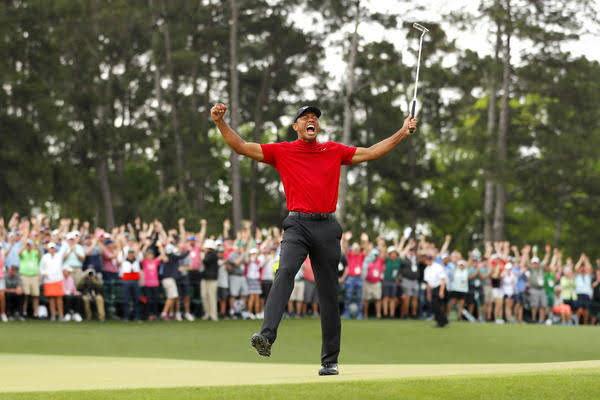 Nobody thought it was possible.
At 43 years old, and after a trophy dry spell of over 11 years, Tiger Woods has reemerged as the undisputed king of golf. In what is now being hailed as the greatest comeback in sports history, Woods defeated a daunting lineup of young stars to win the 2019 Masters Tournament and take home his fifth green jacket.
The victory came after a string of injuries and personal problems, including several back surgeries and a scandal involving alleged extramarital affairs, which pulled Woods' career off its promising trajectory. The golfer's last major title came in 2008, when he won the US Open, and he hasn't won the Masters since 2005. In December of 2017, he was ranked 1,199th in the world–a hard fall for an athlete once considered unbeatable and regularly compared to golfing great Jack Nicklaus.
But these hardships made his triumph on Sunday so poignant. The incredible comeback inspired the nation, and earned Woods ample praise; former president Barack Obama wrote that "to come back and win the Masters after all the highs and lows is a testament to excellence, grit, and determination." On a similar note, Nicklaus wrote that he was "happy for [Tiger Woods] and the game of golf."
In Hingham High School, too, Woods' Masters win has earned him admiration. Freshman Emma Peterson explained that she "didn't expect him to try to win a championship again after his past difficulties," but praised his "determination to win when nobody thought he could." Ella Niehoff, also a freshman, expressed similar sentiments, admitting that she "did not watch much of the Masters," but that the victory impressed her, particularly how "Woods was on the front page of multiple newspapers."
Yet amongst all this acclaim, perhaps the most endearing piece of praise came from basketball legend Michael Jordan, himself no stranger to dramatic comebacks, who made it clear that Sunday's win is just the beginning for Woods. "His confidence is only going to build from here," said Jordan. "The unknown is the biggest thing… you don't know what Tiger's capable of doing."
Indeed, Jordan's prophecy seems highly plausible; Woods is currently ranked 6th in the world, meaning he has moved up 1,193 spots since his 2017 low point. He is now just one Masters victory away from tying Nicklaus for the record number of green jackets won, an accomplishment which would cement Woods' place as one of, if not the, best golfers in sports history. With the worst of his career now behind him, it seems that the only direction for Tiger Woods to go is up.