Senior Night: Games and Memories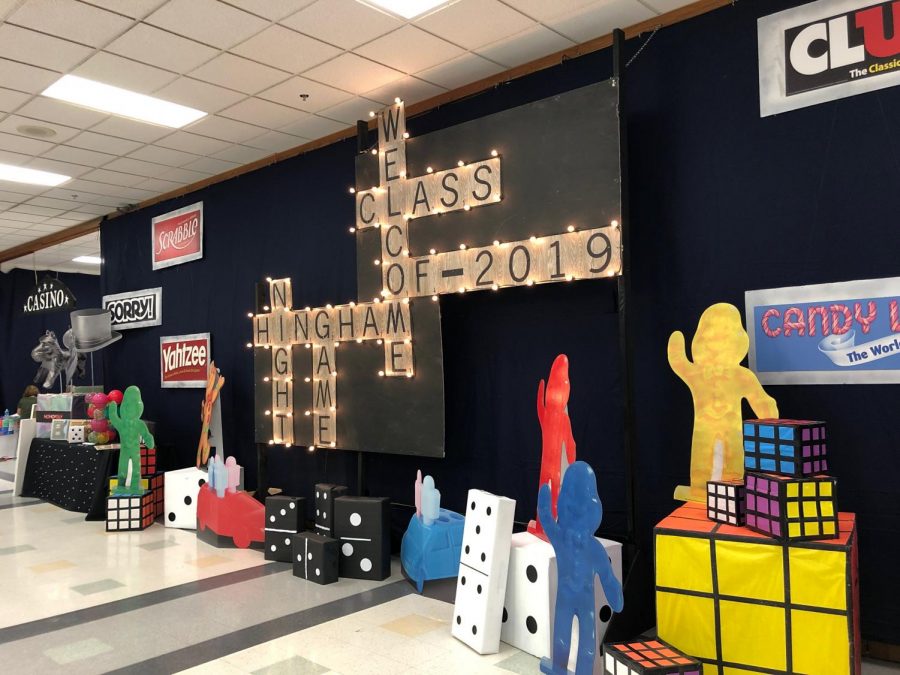 Senior Night was last Friday, May 31, and thanks to the dedication and hard work of the PTO and volunteer chaperones, it was a night that will certainly be remembered.
The graduating class of 2019 was locked in the high school from 11 p.m. on Friday night to 5 a.m. on Saturday morning, amidst an almost unrecognizable game version of the school they attend every day. The cafeteria was set up to look like a game of monopoly, with life sized pieces and giant dice to play board games with. T
he gym was set up with obstacle courses and races throughout, and not even the bathrooms were left untouched by the decorations. The girls' bathroom in particular was quite the sight, as it was set up to look like the Game of Life and resembled a mini town of Hingham, complete with a down-sized Brewed Awakenings.
Additionally, fortune tellers and a hypnotist worked to entertain the students throughout the night. Senior Rory Ahern recalls that the hypnotist, "was really good at what he was doing and convinced a lot of people they were something they're not."
Memorably, some students became convinced they were celebrities like Beyonce under the power of the hypnotist and broke out dancing, or were persuaded into thinking they were standing in front of Tom Brady when it was in fact just their fellow classmate.
The students' memories of growing up together as a class were honored with baby and elementary school pictures lined up along a wall. Some students even caught glimpses of themselves as kids in pictures with students they are still friends with today. Students who are no longer with us today, though, were certainly not forgotten. Andrew Warhaftig, a student who passed away in the spring of his junior year, was memorialized with a tribute to "Amazing Andrew" that remembered his life and accomplishments through pictures. Additionally, a Nephcure stand was set up in his honor, with a yearbook that all his classmates could sign to give to the Warhaftig family.
This amazing night with an unbelievable setup would certainly not have been possible without the tireless efforts of the parents responsible for making it happen. Stacy Havens, the chair of the whole event on the PTO, was especially dedicated to making the night memorable and deserves praise for all her efforts.
Senior Hannah Lewack testified to the dedication of Mrs. Havens and the PTO, marveling that they "have been working on the planning and decorations for Senior Night since September, and have put in countless hours of work, that were definitely visible in how cool it all came out." The senior class of 2019 as a whole expressed their gratitude into all the effort that culminated into this one memorable night.
In return, chaperones like Sara Ader emphasized how happy they were to help out. Mrs. Ader conveyed that she, "loved seeing the kids all having such a blast, celebrating their graduation in a safe environment." She said she felt proud of the Hingham community and their ability to give the seniors a, "great lasting and very positive memory to end their high school careers." As a whole, senior night was a great success.