Weekly Sports Column: Game Recaps and Predictions
Welcome back to another week of the Sports Report. We'll hop right into the NFL scores from this past weekend. 
Eagles: 34
Packers: 27
Ummm…. Ok, I didn't see this one coming. This was the Thursday night game, and Packers just lost their 3-0 record. Aaron Rodgers threw for 422 yards, but only 2 touchdowns and had one interception. There was a sizeable amount of false start penalties against the packers O-line. Better synergy could offer Rodgers more time in the pocket, shorter downs, and less interceptions.
Titans: 24
Falcons: 10
Marcus Mariota had 227 yards for 3 touchdowns; not bad for a team 4th in the AFC South. Henry had 100 yards on the ground, and Mariota had 22. However, the real reason they won was because Matt Ryan had 397 yards and no touchdowns. Shoutout to the Titans for shutting down Julio Jones to only 4 catches and 53 yards, but Sanu had 9 catches and 91 yards. The Titans could turn this year around, considering they have the Bills and Broncos for the next two weeks.
Giants: 24
Redskins: 3
Case Keenum did so bad in this game that in the second quarter, a coach's decision pulled him from the game after going 6/11, 1 INT  and 37 yards. Dwane Haskins was put in, and not much of a difference was made. He threw for 3 INTs, 9/17 and 107 yards. Redskins need to figure something out ASAP, whether for this season or next. 
Chargers: 30
Dolphins: 10
Come on Chargers, you actually gave up 10 points to the Dolphins? Really? In all seriousness, with Phillip Rivers' 310 yards and two touchdowns, it was a convincing win. They also had a nice spread on the receiving corps, with three receivers with 5 or more catches. If possible, the Chargers could use a big receiving threat, and if they are brave enough to land Antonio Brown, he could make defenses a little bit more worried in the secondary. 
Raiders: 31
Colts: 24
I'm sorry that I didn't preview this game last week, because it was actually pretty close. Although the Raiders won, Derek Carr only had 189 yards for 2 touchdowns, while Jacoby Brissett had 265 yards for 3 touchdowns, but 1 INT. The big MVP of this game was Joshua Jacobs, with a whopping 17 catches. This was only for a total of 79 yards, but the Colts' defense needs to adapt to powerful pieces in an opponent's lineup.
Panthers: 16
Texans: 10
Ahhhh, DeAndre Hopkins. A great receiver, not such a great QB. In this game, the attempted trick play was picked off, and one could argue that it lost Houston the game. But, Christian McCaffery, always reliable, had 98 yards on the ground and 86 through the air, and one TD. No Cam, no problem. Also, Kyle Allen with 232 yards and no INT helped too, but a very defense oriented game.
Chiefs: 34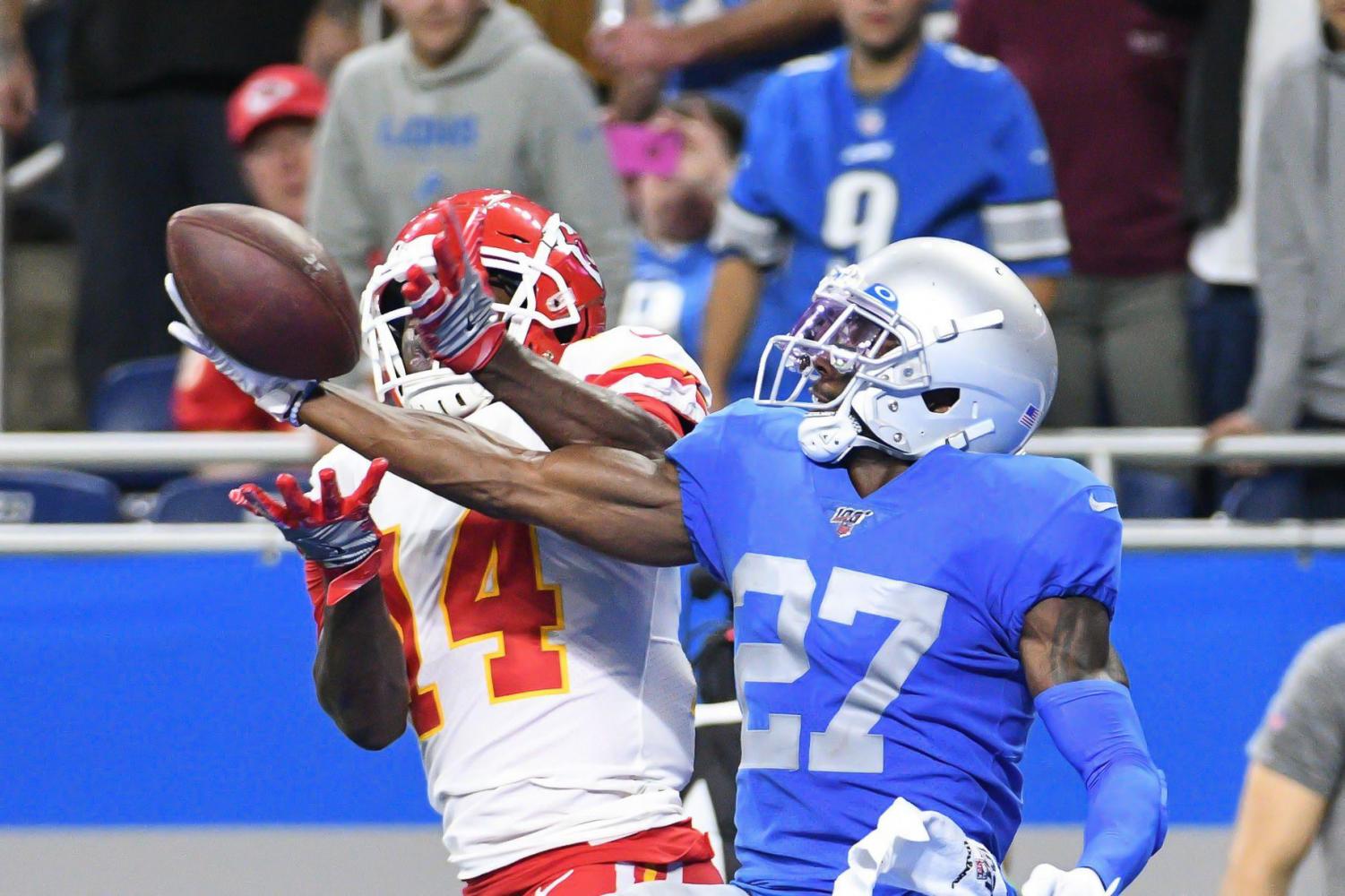 Lions: 31
I was a little off about this one. Both teams definitely proved themselves through this game, and even though the Lions are no longer undefeated, they are a force to be reckoned with. Mathew Stafford had 293 yards and three touchdowns, a really big game for him. Mahomes had 315 yards, but was carried by the run game, with Darrel Williams scoring 2 and McCoy had 1. The NFC North is stacked right now, and if things remain relatively similar around Week 10, expect a close sprint from the Bears, Packers and Lions for the playoff spot.
Browns: 40
Ravens: 24
Browns even out their schedule and the Ravens to 2-2. All the hype around Lamar Jackson was somewhat well deserved. He threw for about 250 and 3 TDs, but 2 INTs. I see him having a bright future, as he will reduce his mistakes with experience in the league. I expected a big game out of OBJ, but he only had 2 catches, 20 yards, and one failed trick play. Jarvis Landry had a massive game with 8 receptions and 169 yards, but it was cut short by a concussion. Still, the Brown's receiving corp is full of great prospects, and expect them to have a great season.
Patriots: 16
Bills: 10
I'm a little embarrassed about this game because the Pats are my team, but the Bills did play some lockdown defense. A close game, but I was pretty off on this one too. The notable news from the game: Josh Allen is out, still in concussion protocol, and the Bills had a total of 4 INTs. How did we win by only 6??? The good news is, Edelman is back, and soon he will be 100%.
Buccaneers: 55
Rams: 40
Another 3-0 team bites the dust. This high scoring game was in part responsible to Jameis Winston, with 358 yards and 4 touchdowns. Jared Goff with 512 yards, but only 2 touchdowns and 3 INTs. Looks like Todd Gurley is still recovering – only 16 yards on the ground. Top reciever from both teams were Chris Godwin, with 12 catches for 172 yards and 2 TDs.  
Seahawks: 27
Cardinals: 10
No surprise here. The Cardinals aren't that great this year. Kind of a disappointing game for Russel Wilson though, only having 240 yards and 1 TD against a 0-3 team. Watch out for Chris Carson though – 104 yards.
Bears: 16
Vikings: 6
Very different from the Buccaneers game. Going into the season, I didn't expect the Bears to be this good this season. Chase Daniel with the 101.4 passer rating, which considering the defensive oriented game, is pretty good. A bunch of sacks for the Bears D-line as well applying pressure on Kirk Cousins.
Jaguars: 26
Broncos: 24
Another very close game. Broncos are now 0-4, but both Garner Minshew didn't have the biggest game, only just over 200 yards. Joe Flacco seems to be fitting in well with 303 yards and 3 TD, but he needs a little better rushing game to diversify the offense. The Jags' D needs to apply more quarterback pressure – they had no sacks.
Saints: 12
Cowboys: 10
Yet another 3-0 team is down. A very close struggle, but the Saints came out on top. Can Teddy Bridgewater and Alvin Kamara keep the Saint's season alive? He had 1 INT that game. Cowboys still have a chance at the playoffs, as their division should be easy to win. 
Steelers: 27
Bengals: 3
Mason Rupolph actually had a good game. He had a 124.6 passer rating against the Bengals and no INTs. Again, check out James Conner's stats – an average of 10.4 yards through the air and 4.2 on the ground. Pretty impressive offense for the Steelers, and defense, giving up only 3 points. Although it was against the Bengals, and teams were winless before the game, the Steelers played a little bit like of their old, better selves.
MLB Standings: As we are now in October, postseason play just started. I'll recap the wildcard games, and will keep you posted on the rest of the bracket. Just and FYI, the standings could have changed from when I wrote this to when you see it.
Wildcard games:
Rays: 5
Athletics: 1
Nationals: 27
Brewers: 3
Division games:
Nats and Dodgers – tied at 1 apiece

Astros and Rays – Astros won game 1, and they play again tonight

Yankees and Twins – Yankees up one, and they play game 2 tonight.
Finally, I'll preview some close and hopefully interesting games for the NFL Week 5. Miami and Detroit both get byes this week.
Falcons-Texans: I see a possibility of this game being interesting, even though both teams are around the bottom in their conferences. Considering that Matt Ryan has been sacked 10 times already this season, and the Texans have T.J. Watt and Whitney Mercilus on their defense, I see this as a nightmare of a day for Matt Ryan and his O-line. Additionally, reporter Will Brinson brings up a good point that, "Deshaun Watson has just two plays longer than 40 yards," and that is a weak point in their offense. However, I still see this going the Texans way, final score 24-9.
Cowboys-Packers: And here's America's Game of the Week. Both teams are 3-1, have good offenses, (with the exception of the Packer's O-line, but more on that later) and both defenses, especially the Cowboy's defense, have been really strong, holding all of its opponents to 3 or fewer touchdowns, and two games under 2 touchdowns. If the Packers want to win, their O-line needs to have more synchrony and provide good protection against DeMarcius Lawrence and Jaylon Smith. This could be a close one, and I think it's going to come down to whether the Packers O-line can hold together and if the Packers defense can hold Ezekiel elliot to only a couple yards per carry, but I think it'll be 17-24, Cowboys.
Jaguars-Panthers: This could be close, considering that the Panthers are at home, and the Jags almost lost against the Broncos. According to sideline reporter Rick Ballou, "the Jaguars will win if…. they can run," however, if the Panthers can, "create mismatches for running back Christian McCaffrey," they have a better chance of winning. Final score: 20-10 Panthers
A couple of you might be asking, "why is the Colts-Chiefs game not featured here?" Well, the Colts won by 1 score or less to both the Bengals and the Titans, two pretty bad teams. It will be a good game, but only if you are a KC fan.
Also, how much will we see of Todd Gurley this season? He's started to get a few more carries, but only 5 carries per game is not 100%. When will we see him healthy, and how much of an impact will he have on the Ram's season? Leave your answers down below in the comments.