Student Council's Second Annual Ping Pong Tournament Proves Successful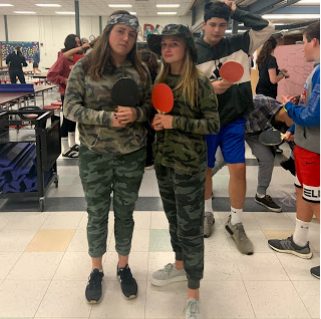 On Thursday, November 7, over 100 students gathered in the Hingham High School cafeteria and participated in the Student Council's second annual Ping Pong Tournament Fundraiser. The event raised money for the Allison Clarke Memorial Scholarship, which honors a former Hingham Middle School teacher who passed over the summer.
At 6:30, students arrived in teams and warmed up, adding their team names to a large tournament bracket. Numerous cafeteria tables were set up with dividers and served as playing tables. Some teams came in costume, including Seniors Riley St. Pierre and Julia Foley, Sophomores Morgan Hurley and Kate Schembri, and Sophomores Elle Cavanaugh and Mila Ranocha. After all players arrived, the games began and teams were paired  up, playing to 11 points.
As the tournament reacher final four round, the cheering grew and the competition became more intense. In the final round, all students gathered around one table and cheered on the teams. At the end of the last game, sophomores Nate Melendes and Teddy Vonderluft emerged victorious. The two were rewarded with two ten dollar bills and were featured on the Student Council's Facebook and Instagram page.
At the end of the tournament, numerous students reflected on the event, most sharing that they would like to see more frequent ping pong fundraisers. Senior Riley Potter shared, "I had such a fun time, and I think that the Student Council should run events like this more often." She suggests, " I would maybe like to see a corn hole tournament or even more ping pong tournaments."
For the second year in a row, the fundraiser proved extremely successful due to the hard work and dedication of Student Council members. With the efforts of the Fundraising committee in particular the event was executed flawlessly and allowed for Student Council to take one step closer to reaching its $10,000 goal for donation to the Allison Clarke Memorial Scholarship by the end of the year.