Elective Spotlight: Television Production Teaches Students Life Skills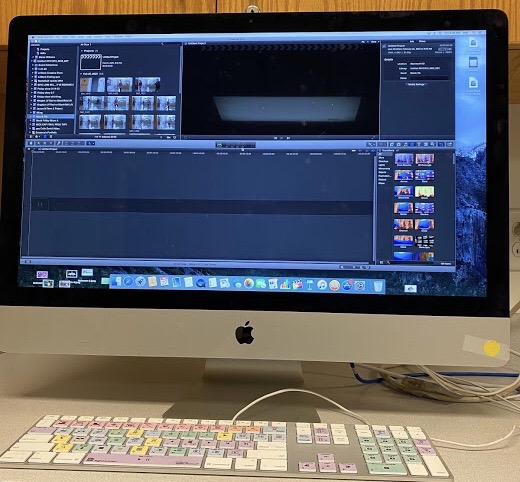 Cam Cyr, Contributing Writer
March 1, 2020
TV Production, an elective course, is offered to students in all grades at Hingham High School, and is certainly worth considering. This class teaches students communication skills essential for everyday conversation and the value of teamwork. The class instructor, Mrs. Garland, strives to help her students learn the basic skills of filming, editing, and acting. 
TVP 1, the prerequisite class for the curriculum, is a project-based class where students are assessed with a variety of weekly projects focused on different skills. Although the students are not usually featured on the Friday Show, they create high quality videos that are reviewed by fellow classmates and Mrs. Garland. Usually, the students split into groups of 2-4, and spend the week creating a variety of videos, including music videos, PSAs, silent films, and other genres based on weekly assignments. Hingham High School sophomore Andy Reid, who recently completed TVP 1, really enjoyed the class because of the "wide variety of projects [they] did." He shared, "It never got stale or boring because of this." 
In TVP 2, students are responsible for writing and producing a Friday Show every week. Students are tasked with generating new ideas, and they must work together to film and edit each program. Every Monday through Thursday, students produce at least one skit and create an opener, closer, or sports report for the coming show. After the show airs Friday morning, students must immediately start brainstorming new ideas for the following week. Hingham High School freshman, Sean Quinn, stated that he "may join TVP later on in high school, maybe junior year."  He vocalized that the Friday Show is very funny, and that it seems like the students enjoy their time in the class.
Although students on the camera get most of the credit, Mrs. Garland and English teacher Mr. Haflin meet every Wednesday to review the timeline of each show and edit to make sure that the content is appropriate and appealing for students. For both TVP classes, the rules are very straight forward. No phones are allowed at any time during the block, unless advised by Mrs. Garland. In addition, no non-TVP student is allowed on the Friday Show unless given permission to join.
The content of the videos may not include inappropriate language, racism, sexism, bullying, or anything else that may harm a student. The most important rule is that all TVP students are kind, thoughtful, respectful, and hardworking during the class period. All of these requirements allow for a cohesive and productive environment that teaches students life skills. 
There are three classrooms where TVP students work. The editing room is where students meet with the teacher at the beginning of each class to discuss the daily agenda. The cameras, plates, directional mics, and most other equipment are held in this room. This is also where students edit their videos using Final Cut Pro. 
The filming room is where students film the opener, the sports report, and the closer for each Friday show program. In addition, the highly advanced tripods, green screens, and props are all stored in this room. Students also have permission to go anywhere on school property to film as long as their request is accepted by either Mrs. Garland or the main office.
The airing room is where students brainstorm new ideas and where the Friday Show is broadcast from. Every Friday, Mrs. Garland plays the Friday Show on a disc in a DVD player, allowing every classroom to view the class' hard work each week. 
In order to graduate Hingham High, students must take at least one fine arts class, and TVP falls under this category. If you love filming, editing, or being in front of the screen, TVP is for you!