Schitt's Creek's Annie Murphy Steps Foot in Hingham To Film Her New Comedy
As Hingham High alumnus Molly Schwall put it, "Hingham is now a little bit Alexis."
She's quoting the Canadian sitcom Schitt's Creek because this past Monday, the show's Annie Murphy visited Hingham's downtown to film her new show, Kevin Can F*** Himself. 
Created by Dan and Eugene Levy, Schitt's Creek ran for six seasons from January 13, 2015, to April 7, 2020. The show centers around the once-wealthy Rose family who lose all their money and relocate to the small town they once purchased as a joke. In Schitt's Creek, Annie Murphy plays Eugene Levy and Catherine O'Hara's spoiled daughter, Alexis Rose. 
When junior Sadie Burm found out Murphy would be shooting her new show in Hingham, she was ecstatic. She had fallen in love with Murphy's humorous portrayal of Alexis in Schitt's Creek, and she was very excited to "go looking for Alexis," as she put it.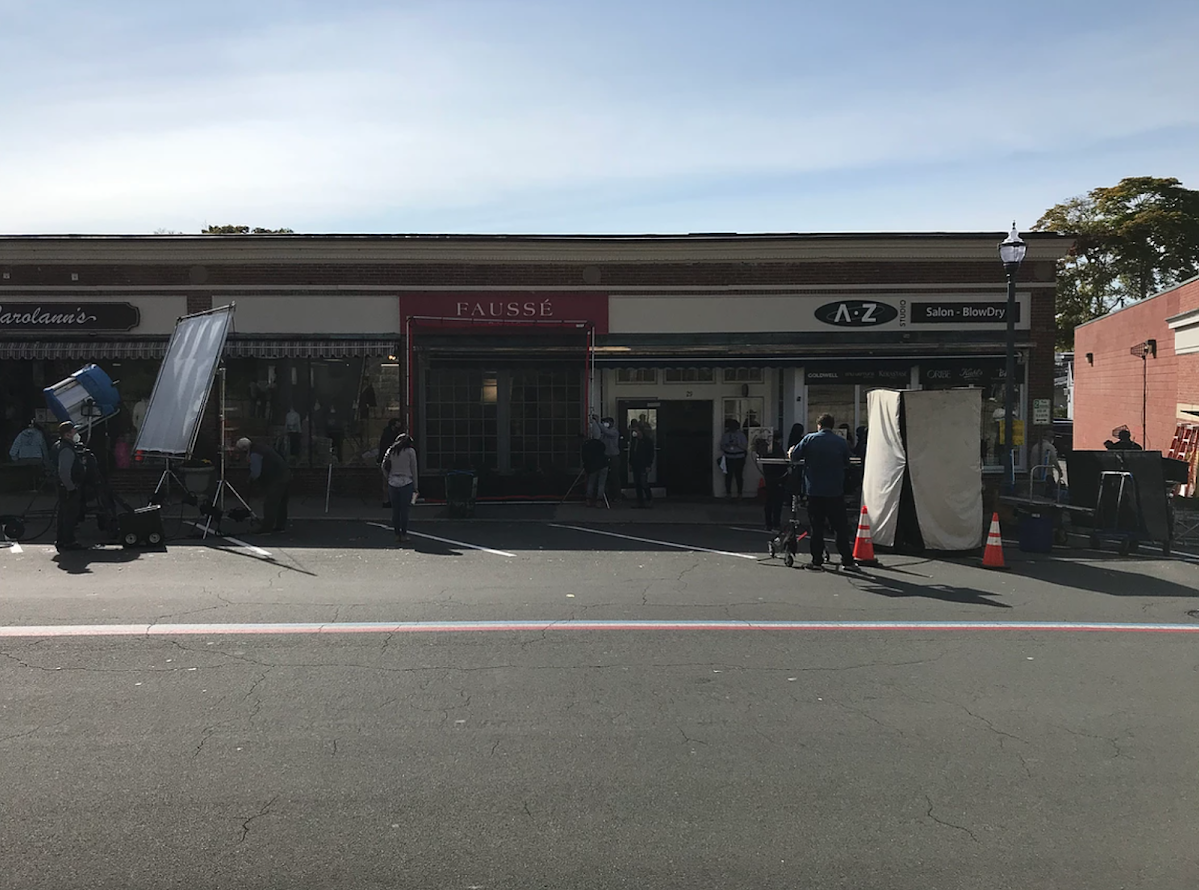 The scene Burm and other onlookers witnessed consisted of Murphy strolling down Hingham's sidewalk while eating a box of Dunkin' Donuts' munchkins. At the end of the take, the actress contorted her face and spit out the contents into a trash can. Onlookers watched Murphy run the scene several times before she headed inside Tryst Studio for a different scene.
Murphy and the crew had popped up their set at Tryst Studio located near Nona's Homemade in Hingham Square; however, the crew made some changes to this setting.
Where the sign normally reads "Tryst Studio" elegantly read "FAUSSÉ" for the shooting. The studio confirmed on their Instagram page that "During filming our store was transformed into a French cosmetics boutique. We are honored that our store was chosen as a location and we are so excited for the show's release."
In the name of Hollywood, the crew also mocked up the trash can used in the scene to convince viewers that Murphy's character was walking the streets of Worcester, MA.
Hingham Police Sgt. Steven Dearth tweeted with the caption "Bit of Hollywood in downtown Hingham today. Film crews even changed trash cans to "Worcester" for the filming with @annefrances for @AMC_TV."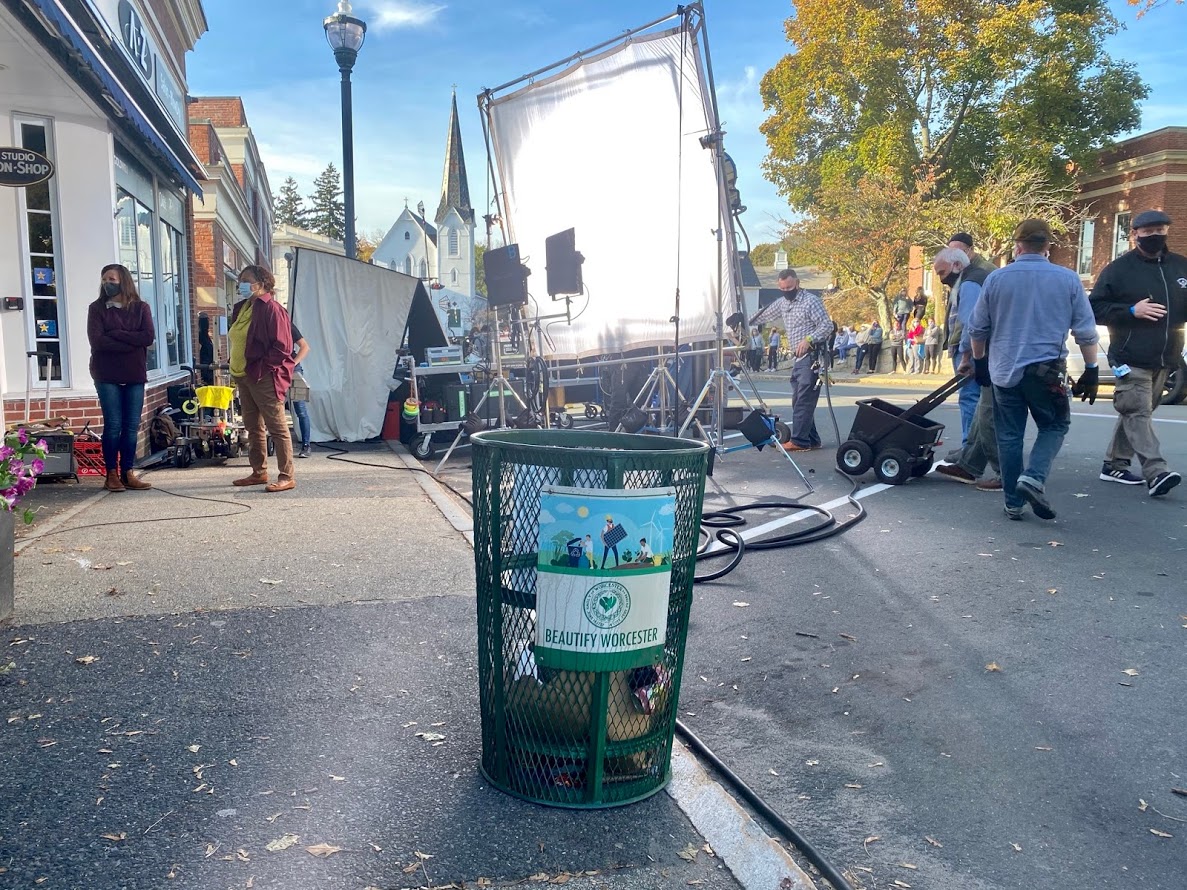 While observing the filming process, Burm and senior Mia Kourafas attempted to catch the actress's attention.
Burm disclosed that when they waved at Murphy, "She saw us, waved back, and then made hearts with her hands! She's so nice and cool–I'm obsessed with her and so excited for her new show!"
The new show is set to star Murphy as the central character. Variety reports that Murphy will play the titular character's no longer passive wife, Allison, as she begins to stray from her life as a housewife. Created by Valerie Armstrong and produced by Rashida Jones and Will McCormack, the dark comedy will uniquely implement both single-camera realist and multi-camera comedy styles.
While a different genre than Schitt's Creek, fans remain dedicated to the actress and her career. Junior Lila Mercurio, who also watched some of the filming downtown, confessed, "I love Annie Murphy, and it was so inspiring to watch her film downtown. I felt like my own town was famous, and I can't wait for Hingham to be featured in her new show!"
Another scene from the show took place near Red Eye Roasters next to Hingham Harbor. This commotion led to the rumor that actor Timotheé Chalamet was filming an upcoming movie at the water. At the time of publication, no one has confirmed this, and this rumor seems likely to be false. Most likely, rumors spread around Hingham as news hit of the film Don't Loom Up planning to film in Boston in November. Chalamet is set to star in the movie, alongside other A-list actors such as Leonardo DiCaprio and Meryl Streep.
While it would have been exciting to boast about Chalamet filming locally as well, Hingham residents are more than satisfied knowing that Hollywood did, in fact, reach our downtown area with the arrival of Annie Murphy whose presence in Hingham, according to Kourafas, "makes this town a whole lot more iconic."