What Happened During Election Week: a Day-by-Day Breakdown
Only one day before November third, the polls put Biden ahead. The candidates had been spending most of their time campaigning in swing states like Pennsylvania, Florida, Wisconsin Michigan, North Carolina, Nevada, Arizona, and Minnesota. Because Biden led Trump in four key states, he was put at seven points above Trump just before election day, and was expected to receive 52% of the votes.
Tuesday, November 3rd: Election Day
As the results came rolling in, those predictions were soon turned upside down. Trump won Iowa and Ohio before the morning of November fourth, and he won Florida, the most important swing state this year, by 3.4 points, even though Biden had been projected to win in that state. The only swing states Biden did win early on were New Hampshire and Arizona.
Wednesday, November 4th
As of November fourth, we're still waiting for results from Georgia, Michigan, Nevada, North Carolina, Pennsylvania, and Wisconsin, and the standings are as follows: Biden has 238 electoral votes, and Trump has 213. 
The polls show that Trump is ahead in Pennsylvania by ten whole points, but the state is only halfway finished counting votes and analysts expect that Biden votes will come in later via mail-in ballots, which were more popular among Democratic voters.
Currently, Trump also leads in North Carolina and Georgia by somewhere between one and two percent; Nevada and Wisconsin have Biden in front by those same margins. Michigan is where it gets interesting. It has been going back and forth all morning, only favoring one party over the other by decimal percentages. If Biden wins in Michigan and can hold on to Nevada and Wisconsin, that would be just enough for him to reach 270 electoral votes. But if any of the predicted blue states (keep an eye on Nevada), go to Trump, he'll get his second term as president. 
With all this uncertainty, one student from Hingham High School, who prefers to remain anonymous, claims that the election has made this week "the most stressful week of [their] year, which is saying a lot."
Thursday, November 5th
Two days after the election, Biden stands only six electoral votes away from victory. However, that alone doesn't mean much: Pennsylvania, North Carolina, Georgia, and Nevada are still counting votes. As of Thursday morning, Trump is leading in all those states except Nevada, which has exactly six electoral votes. If Biden holds his lead in Nevada, it's game over for the incumbent.
However, there's also some concern surrounding Pennsylvania. Trump is only up by two percent in that state, and the wave of mail-in ballots, which tend to be heavily democratic, is still forthcoming; Biden, then, still has a chance to win in PA as well.
In Georgia, Trump only has a .4% lead, with the remaining votes coming from Atlanta. It does look like Trump has a hold on North Carolina, though. This race is far from over, any one of these states could flip before the next president is announced. 
Friday, November 6th
On Friday, three days after the election, Georgia and Pennsylvania officially flipped to blue. Biden is ahead by a mere 1000 votes in Georgia: less than one tenth of a percent. In Pennsylvania he takes the lead by .1%, which is a lead by about 6000 votes. This is a major flip in these two states, and makes a Democratic win seem much more likely. We should have the final tallies from Georgia and Pennsylvania before the end of the day; with only one of these states on his side, Biden would be our next president.
Biden also still leads in Nevada, although the state is not making great progress with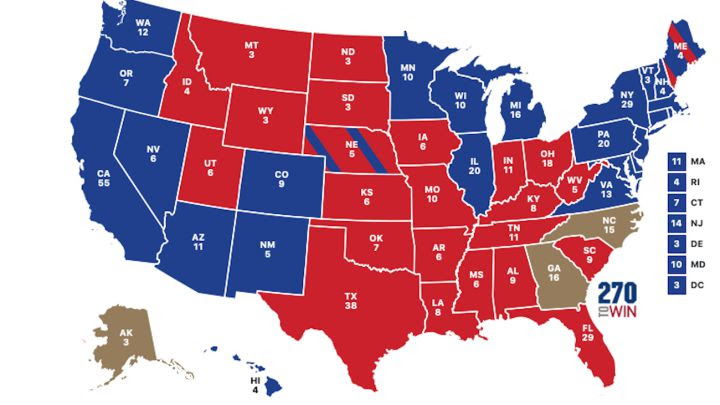 counting votes, so Americans still await a more accurate and updated prediction from that state.
North Carolina still favors Trump, nothing has changed there, and it looks like he pretty much has that state on lock. 
Saturday, November 7th
On Saturday, November 7th, four days after the election took place, Joe Biden was officially announced as the winner of the election. When Pennsylvania finally finished counting their votes, they put Biden at 284 electoral votes. It also looks like he'll win in Georgia too, and Nevada also already gave him the victory. The final electoral vote count looks like it will be Biden with 306, and Trump with 232. So, next January, expect to see the inauguration of President Joe Biden. Several students from Hingham High School, who also prefer to remain anonymous, seem pleased with this result, making comments like "I'm glad I get to keep my rights" and "finally Trump is out of office, he was already impeached after all."