HHS Ergathon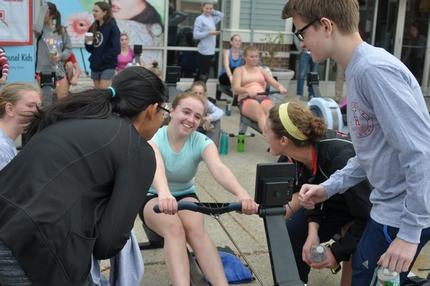 Now that most of Hingham High School's fall season sports have come to a close, things are  starting to wind down. While many teams are able to continue training throughout the winter,  crew is unable to use the harbor after the docks have been removed. The winter turns into the  crew team's most intense time for erging. An erg machine is used to imitate the feeling of rowing on water, and many rowers feel that it's  even more challenging than rowing itself because there is less to focus on, meaning less  distractions. Almost every high schooler would say that crew requires an exponential amount of  dedication and intensity when compared to many other sports.    Hingham High School's rowing program has one annual fundraiser, the Ergathon.
This year, the  Ergathon took place at Derby Street Shoppes in Hingham, on November 7, right outside of  Lululemon. Each rower rowed 20,000 meters to raise money for new equipment, and each  coxswain rowed 10,000 meters. The rowers asked for donations of any kind, and the community  responded with a positive outreach and many donations. Most donations were given prior to the  ergathon, but some locals passing the event at Derby Street decided to donate randomly at the  sight of hardworking high schoolers. The HHSRA (Hingham High School Rowing Association)  set up a basket, and thanks to many generous people, the rowers raised over $30,000. The  money will be used toward a new boat, costing $40,000 at least, not to mention the excess  costs of riggers, seats, shoes, and new oars for the boats.    All of the money raised by the rowers was well deserved, leaving them exhausted by the end.
I  asked sophomore Hannah Kerber about her experience and she responded, "It's not anything  where your scores are looked at, so it wasn't important how well we did, but it takes a long time  and the faster you go the faster it's over." Looking at the small screen attached to the ergs for  the entire 1.5­2.5 hours becomes very monotonous, but the support of teammates and parents  was very helpful for each rower. For many, the overflowing support is what makes the team so  special.  Sophomore Grace Galko agrees with Hannah's comment, adding, "It's empowering to know that  you're rowing for such a great team. It's a lot of work but it's worth it because people recognize  how hard we work." Often times, recognition is what matters because it proves that people care,  and what the girls and boys are doing matters. Their hard work pays off as they evolve as  athletes over time.  Later, I asked junior Gillian Mehigan how everyone felt during their 20,000 meters, and she  responded, "It always takes a while and we try to have the most fun we can, but 20,000 meters  obviously takes a long time."With the support of one another, the rowers were able to complete  the event with solid times, leaving just enough time for a quick stop at Chipotle afterward.