8 Killed and Dozens Injured at Travis Scott Concert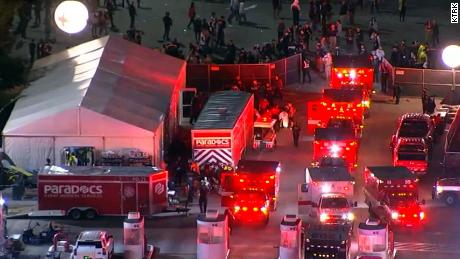 November 5th in Houston, Texas was supposed to be an exciting day for those attending the 2021 Astroworld Festival headlined by superstar rapper Travis Scott. Instead, it became a nightmare, leaving eight tragically dead and many more injured.
The Astroworld Festival has been a yearly event in Houston (apart from 2020) since Travis Scott's released his highly acclaimed album Astroworld in 2018. This year's festival included a star-studded lineup, including Lil Baby, Don Toliver, Roddy Ricch, and of course, Travis Scott. However, things would go wrong very quickly.
Those familiar with Travis Scott know that his shows tend to get crazy, often encouraging fans to rush the stage, start to mosh pits, and defy security. He had gotten himself in hot water before for these kinds of actions. In 2017, a fan was paralyzed at a show in Manhattan after being pushed off a balcony. Earlier in the show, Travis encouraged another fan to jump from the same balcony. At another show in 2017 in Arkansas, Travis was arrested for inciting a riot after telling his fans to rush the stage, leading to several people being injured. Travis is also known to curse at and insult security guards who attempt to stop these things from happening. 
Travis' style of performing, along with an overcrowded audience due to some fans reportedly bypassing security and breaking in, led to fans being dehydrated and overheated. There were very few places to get water at the festival, and where there were, water was sold for $7 a bottle. Some realized early into the event that it was far too crowded and violent already and would only get worse when Travis came out. They tried to move towards the back, but many became trapped with no escape and no air to breathe.
When Travis finally did start his performance, the crowd became out of control, and people began passing out from dehydration and suffocation. Some security guards realized the issue and started tossing water bottles into the crowd, but much of the relief never got to the victims as some fans tossed them away. People began screaming for help, but their screams went largely unnoticed due to the absurdly loud music. Also, there was reportedly someone in the crowd injecting people with needles as a security guard said he felt a prick before going unconscious. He was administered Narcan which helped him regain consciousness, but it is unknown at this point whether anyone else in the crowd was unknowingly injected with drugs. At one point, an ambulance was called in and attempted to make its way through the crowd to help the injured. However, the packed crowd and general confusion made it extremely difficult for the paramedics to do their job. Travis noticed the ambulance and looked on in confusion, but continued to perform which many people called him out on. It is unclear whether or not Travis knew the true severity of what was happening, and a warning was never announced on the PA system or video boards, but it still looks very bad on Travis' part. Eventually, the show did end around 10:10 PM Central Time about 40 minutes after a "mass casualty event" was declared. In the aftermath of the concert, true horror was revealed. 8 people were killed and dozens more were left injured and hospitalized. The youngest victim was only 14 years old.
Travis and other stars performing at the event such as Drake took to social media to give their condolences and prayers for the victims. However, many people called out Travis' apology in particular as being insincere and possibly scripted. In the following days, Travis announced that he would pay for all funeral expenses for the victims' families and is working with the Houston Police Department to see how everything went wrong. Roddy Ricch, who performed earlier that day, vowed to send all his earnings from the event to the families of the victims.
The aftermath has left people around the nation and the world saddened and shocked at what transpired as many wonders what went wrong and why the concert was allowed to continue. Many in our Hingham High School community share these feelings. Hingham High senior Hank Drinkwater, when asked if the blame for the incident should fall on Travis, said, "I think Travis is to blame for part of it. I think he should have been more aware of what was going on, and he has been known in the past for these crazy atmospheres". HHS sophomore Mark Pryor, when asked the same question, responded, "I think some of the blame falls on Travis because he could've stopped the show and should've been more observant and realized something was wrong, but the main people at fault is security and some of the people who went to see the show. Travis deserves blame for sure though, and he needs to come out with an actual apology because what he has right now is pretty bad". Regardless of people's opinions of how much blame falls on Travis, everyone can agree that what occurred at the 2021 Astroworld Festival was a tragedy the likes of which we hope never happens again at any concert.
If you are interested in donating to the victims and their families, please visit the following links:
https://www.gofundme.com/f/m69j8z-funeral-expenses
https://www.gofundme.com/f/axel-acosta
https://www.gofundme.com/f/rodolfo-pea-funeral-expenses-and-memorial