Athletic Spotlight: Harborwomen Hockey Team
This season, the winter athletics programs in Hingham High school have all demonstrated promising significance, resilience, and spirit as competition for playoff season skyrocketed. Both girls and boys' basketball teams fought till the end, delivering fantastic records as their seasons approached a close. The winter dance team performed beautifully and was full of vibrance during mid-sporting events, and the Harbormen hockey team demonstrated their strong capability as they battled their way up to the second round of Division 1 playoffs. But with all of these teams and their strength combined, one team prevailed to be the last athletic program left standing, and that was the girl's hockey team.
The girl's hockey team, led by a new coach and former PWHPA player, Courtney Turner, demonstrated their outstanding abilities the minute the puck dropped for their first game. They established a 16-6-2 record during their regular season, and as their season progressed to an end, they were a set lock for playoffs. Ending at a number 6 seed in their division 1 league, the team's progression was evident in the way they won game after game, especially nearing the end of their season as they fought to keep their 11-game winning streak going. The girl's hockey team has its own superstar, Caroline Doherty. Representing the number 9, her unbelievable skill and work ethic led her to her 100th goal mid-season as a sophomore. Senior Abbey Kennedy contains a similar work ethic but credits some of it to her relationship with her other teammates. "Being on the team is awesome. We are all so close and quickly became one big friend group," Kennedy said when asked about how her dynamic with the girl's hockey team motivates her own playing style.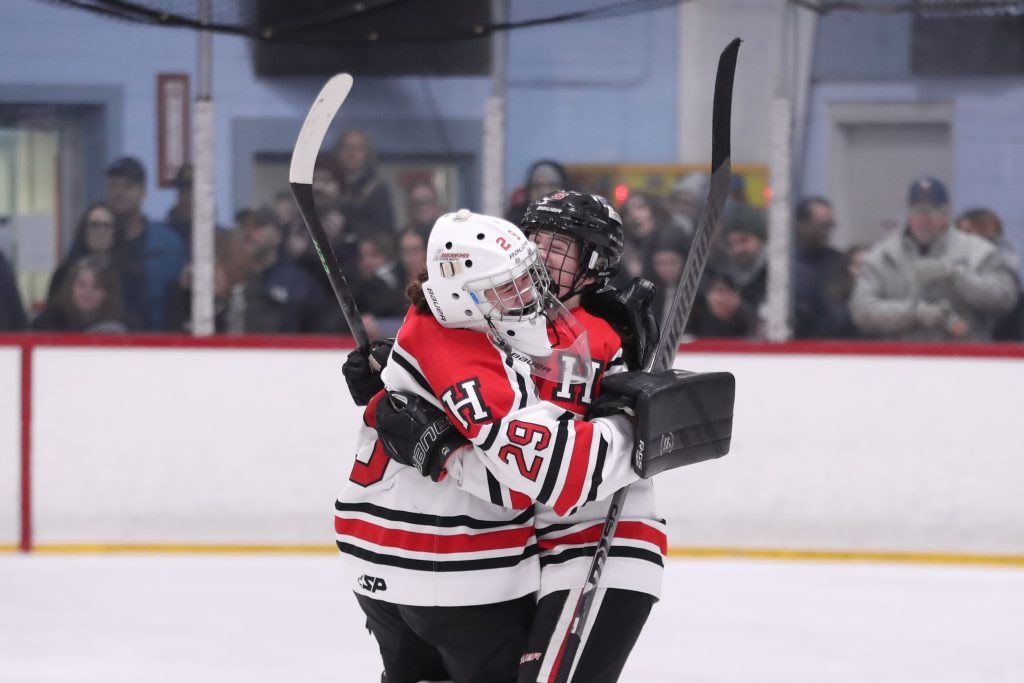 The girls ended their regular season with a spectacular win against Acton-Boxbourough and went into the first round of playoffs determined to make their mark. And they definitely did. Playing seed number 27, they outplayed Arlington Catholic in a 3-1 game. The girls continued their streak as the second round pitted them against a similarly skilled team, Longmeadow (Seed 11). It was a tough matchup in the first period, but the girl's hockey team slowly began outplaying Longmeadow until the ending score was a spectacular 6-1. The game was high-intensity, and the rink was filled with parents, classmates, and other spectators. But an hour-long bus ride took the team to play against their next match, Shrewsbury. But it did not end in the way the town had hoped. The Hingham girl's hockey team outperformed their opposition most of the game with a 1 goal lead, but things took a turn as the last four minutes began to dwindle. On a fierce penalty kill, the girl's team was scored upon, leaving the two teams tied. This led to double overtime, and as the clock kept ticking downwards, Shrewsbury won the game their sudden death goal. It was a devastating loss, and the school community looks forward to the team next year and the energy they bring to the winter athletic programs of Hingham High School. Amazing season girls.