Russian Opposition Leader Silenced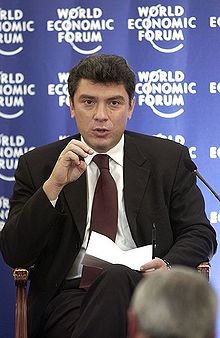 Russian politician Boris Nemtsov, a key figure in Russia's opposition party and critic of President Vladimir Putin, was killed last Friday night in a drive­by shooting. Just 100 feet away from the Kremlin, Nemtsov was gunned down in what seems to be a contract killing. While it is common for Russian dissidents to be silenced with threats or coerced into leaving the country, this level of violence is all but unprecedented. Since the fall of the Soviet Union nearly 35 years ago, no politician of Nemtsov's level has been killed. Nemtsov was silenced just one day before his planned appearance at a rally. This rally still went forward, but was dampened from a protest ­fueled rally to one of mourning for one of the opposition party's leaders. Fear that this radical behavior will become the new standard for Russia has swept through the opposition party. Indeed, this killing has sent shockwaves through the opposition leaders. Some unfoundedly point towards President Vladimir Putin and his administration as the perpetrators of this horrific crime.
However, Putin was quick to dismiss these concerns, and condemned the killing, saying that Russia's top security officials were investigating the killing. Nemtsov's death is believed to have been linked to his political involvement. Nemtsov wanted to distance Russia from its Soviet roots, and wanted to do so by opening up free markets and going ahead with progressive reforms. While he was deputy prime minister in 1997, Nemtsov passed many economic reforms which angered many of Russia's outdated oligarchs, and effectively halted his political career. Nemtsov was strongly against the conflict in Ukraine, and disapproved of the invasion of Crimea. In the days before his death, the Russian politician claimed to be working on a report that he claimed would prove Russian soldiers' current involvement alongside Ukrainian rebels. This report, if published, could prove immensely damaging for Putin and his regime. Some claim that this killing marks the arrival of a new period of political repression as the President tightens his grip on the country. Hopefully, this is an isolated event and the appropriate authorities will respond and curtail this violence before it affects any more politicians. Russia is already reeling from recent economic downturns, and cannot afford any more setbacks on its way to recovery.