Celtics Preseason Roster Predictions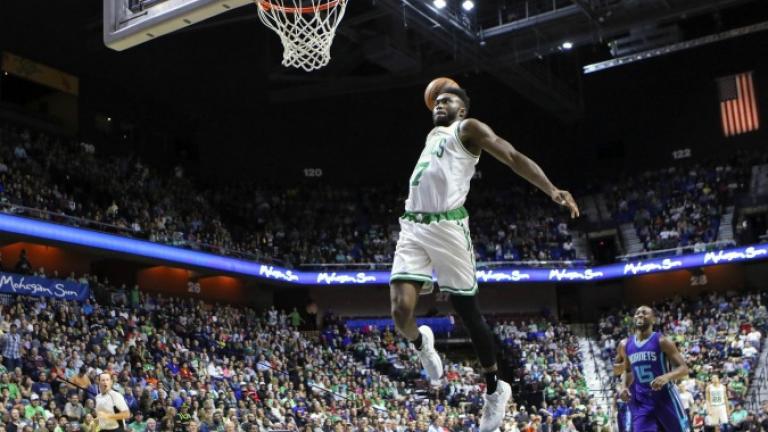 The Celtics have a group of five players who are competing for the last two regular season roster. Some, if they don't make it, could be out of basketball for good. The five players are BU standout John Holland, second year shooting guard R.J. Hunter, third year swingman James Young, rookie Demetrius Jackson, and finally, rookie from Providence College, Ben "Pablo" Bentil.
Let's start with the rookies. Ben Bentil is a menacing 6' 8" power forward who can, and would have to play center at varying points. I have noticed that he loves to be aggressive near the basket but when I went to watch Providence play against Villanova last season he was able to bring Villanova's monstrous center Daniel Ochefu out of the paint and, using his nice outside touch, scored a plenty of points from midrange. He is an overall good player and it would be foolish on the Celtics part to not give him a shot on the roster since he has an enormous upside.
Demetrius Jackson is also a top candidate to make the Celtics roster. The second round pick out of Notre Dame is a talented guard who can play on and off the ball. He was nervous against the Sixers this past Wednesday but he played aggressively. He will make the roster if the Celtics use 15 players, the league maximum, or just have 14 to start the season. Jackson would be good to have on the roster in case Isaiah Thomas or Avery Bradley goes down, that way the C's could have multiple true point guards at all times.
Furthermore, the Celtics should cut R.J. Hunter and James Young. Hunter, even though he has shown surges of offense within the past calendar year, he is not a NBA ready defensive player, even though he has already had a full season to hone his skills. Hunter will always have his high instinct for the game but he should not be on the Celtics when the season starts.  As for Young, I've had enough. He did play pretty well against Philadelphia, but he has already had three full years to figure out his playing style in the NBA. He has made no impact at all on the Celtics and I don't see the point of keeping him when the Celtics will have their hands full with another project, 3rd pick Jaylen Brown.