The Inauguration of President Donald Trump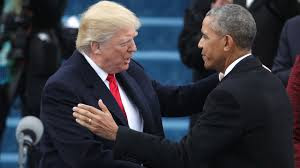 Hundreds of thousands of people crowded in front of the Capitol Building, and millions of Americans watched as President Donald Trump was sworn into office.
On Friday, January 20, 2017, Donald Trump became the 45th President of the United States of America. Compared to the inauguration of Barack Obama, Friday's ceremony had a significantly smaller number of viewers, with a turnout of only 800,000 people.
The morning started off with the traditional morning worship service, and was followed by the progression to the Capitol Building. These services are traditionally attended by the President and the President-Elect. After the first ceremony, President Obama and President- Elect Trump proceeded to the Capitol Building steps where the official Inauguration ceremonies would take place.
To start off the ceremony, Vice President Mike Pence was sworn into office. One the Associate Justices of the United States Supreme Court, Clarence Thomas, administered the oath to the Vice President.
Following this was the swearing in of President Trump. His oath of office was administered by Chief Justice of the Supreme Court, John Roberts. Upon the conclusion of the oath, President Trump officially became the 45th President of the United States.
After President Trump was sworn in to office, he delivered his Inaugural Address. The Inaugural Address has been traditionally given by every president at their inauguration since George Washington. The Inaugural Address delivered by President Trump was only 16 minutes long, while previous speeches have been near 40-45 minutes long.
When President Trump concluded his Inaugural Address, he departed from the Capitol Steps with First Lady Melania Trump in an armored car nicknamed "The Beast", and the two headed down Pennsylvania Avenue for the Inauguration Parade.
Throughout the day and proceeding into Friday evening, there were Inaugural Balls, where the President usually makes an appearance. 
When asked about the new president, freshman Emily Bryant said "We have to accept it. I was upset with the outcome of the election, but it's over now, and Donald Trump is going to be our next President. There is nothing we can do about it except for give him a good four years to prove that he is worthy of this position." 
In freshman Alex Lannon's opinion, "it's a historical day, and it's your choice if you want to look at today as a new beginning or not."