Celts Step up Their Game
Among the prospect of the Golden State Warriors breaking the single­-season win record and Kobe Bryant retiring, the Boston Celtics have been quietly handling their business, moving towards locking up the four seed, and adding their 47th win with a 124-­109 blowout of the Bucks.
Friday, April 8th, night, the Celtics took on the Milwaukee Bucks at home, a hopeless team trying to develop their talent in the few games left, especially unlocking the talent of Giannis Antetokounmpo. The pure athleticism and length of the Milwaukee Bucks is always a challenge, but the Boston Celtics were able to get the job done with a large bench contribution.
Antetokounmpo, currently ending his third season, recently dominanted as the Bucks' point guard and main playmaker, using his stature and strength to challenge defenses. Since being moved into the role in early March, he has averaged 18.4 points, 7.1 rebounds , 7.2 assists per game.
A player who can guard centers and play point guard, standing 6'11, is always a challenge for defenders, as it was early in the first for the Celtics. Antetokounmpo came out hot in the first, scoring 17 out of his 27 points in the first quarter, but he had trouble against the Celtics as the game advanced. He struggled in the second, then finally sat after picking up three offensive fouls, five in total, and had trouble scoring on guard Avery Bradley.
According to NESN Sports, Giannis Antetokounmpo expressed how he was challenged, saying "They put a smaller guy on me, Bradley. He's got quick feet. I was trying to get him in the post but I never felt really comfortable, couldn't find my spot on the floor."
The move that turned the tides was throwing Celtics reserve Tyler Zeller into the game, and he played relatively unchallenged. With not much interior presence, Zeller was able to score and rebound at will, on his way to 26 points, along with four blocks.
Aside from his former UNC teammate John Henson, the Bucks lacked players who could challenge Zeller, as Greg Monroe struggled on defense against him. A big night from a reserve was perfect for this game, as coach Brad Stevens could rest his starters for the upcoming playoffs.
"Everyone seemed to step up against Milwaukee. The Celtics played amazing as a team and showed what they're made of for the playoffs" freshman and new Celtics viewer Will Sutton observed.
In Friday's game, the Celtics starters only played 98 minutes, while the bench unit played 141 total minutes, allowing Evan Turner a chance to play again after missing Wednesday's game against the Pelicans with an eye injury. Turner was somewhat like himself in his return, going 2­6 from the field, but dishing 9 dimes off the bench.
Guarding an athletic and long team like the Bucks was a good test for the Celtics, as they kept rising stars Jabari Parker and Giannis Antetokounmpo relatively under control, as they combined for 16-­30 from the field, but also let up four three pointers from Antetokounmpo on one of his rare hot three point shooting nights.
"Giannis is a beast, I'm surprised they guarded him that well, but [Avery] Bradley and [Jae] Crowder did a good job" freshman Eamon Flynn added.
The Celtics ended their win streak the following night in Atlanta, but are looking to finish off the season and lock up the four seed against potential playoff opponents Charlotte and Miami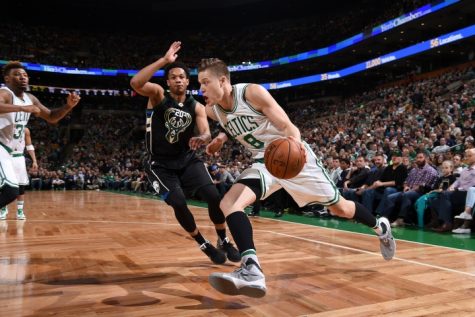 on the 11th and 13th, respectively