Thanksgiving Day Football During the Pandemic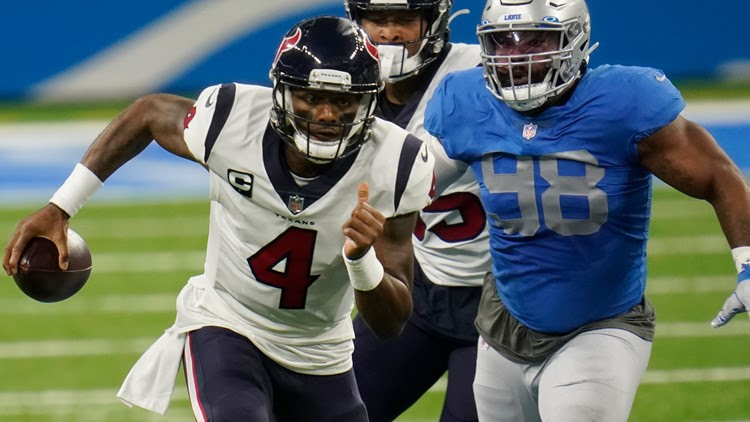 Cam Cyr, Contributing Writer
November 29, 2020
In 1934, Detroit Lions owner George A. Richards wanted to spread publicity. Usually losing fans to the Detroit Tigers, he planned to play on Thanksgiving, and his stadium sold out. Ever since then, the NFL has held a game on Thanksgiving that always features three games, with the Lions and Cowboys slotted in a game every year. Although COVID-9 has ruined lots of family traditions this Thanksgiving, the firm foundations of NFL football have continued.
This year, the Detroit Lions faced off against the powerhouse Houston Texas at 12:30 EST. The Texans pulverized the Lions, winning by a demanding 41-25 game. The Lions' hot first possession capped off by veteran running back Adrian Peterson put them up 7-0, but a series of turnovers in the next 16 minutes put them down 13-7. From there, the quarterback Deshaun Watson lit up the scoreboard, throwing for 318 yards and four touchdowns. The Lions suffered their fourth consecutive loss on Thanksgiving, dropping their overall record to 37-40-2.
Similar to the 12:30 game, the 4:30 EST game between the Washington Football Team and the Dallas Cowboys was a blowout. Sophomore Leo Burm could not believe "The Redskins blew out the Cowboys in outstanding fashion." He commented on the three-touchdown game from rookie running back Antonio Gibson, stating, "His contribution led to the Redskins commanding 41-16 win". Washington's defense also held up well, holding the Cowboys star running back Ezekial Elliot to 45 yards and a fumble.
The Baltimore Ravens and Pittsburgh Steelers game was scheduled to play the night game and be the highlight of the three-game football spectacular. However, the Ravens reported seven new coronavirus cases, including two of their starting running backs, moving the game to Sunday at 1:15. The Steelers organization was disgruntled, upset about how they could not play on Thanksgiving. Hingham High School sophomore Craig Sandler was outraged, stating, "This game featured two of the top teams in the league today, and was going to be a game to remember". He could not believe how poorly the NFL handled the situation, as he thought, "They could have put another game in to replace the game". Now, after reports that Ravens coach John Harbaugh stated that his team would not return to their facility until at least Monday, the game is unlikely.
Overall, Thanksgiving this year was memorable, forcibly separated by the ongoing virus and containing football drama that worried fans about what the rest of the year holds. Comment your thoughts on the Steelers-Ravens controversy and the two games that played this year.