Hingham Girls Win Their Fourth Straight Ski Race, While the Boys Come in a Close Second to BC High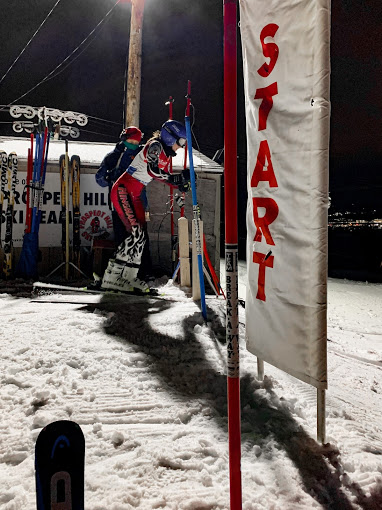 Throughout the winter, Blue Hills has been hosting races for the Skieast league. This league includes BC High, Hingham, Cohasset, Notre Dame Academy, Needham, and Arlington. Usually, Norwell and Natick compete in this league as well. However, due to COVID, they decided to pull out this season.
Last Wednesday, February 3, the league had it's fourth and second to last race. The abbreviated season ends after the two races on February 9 and 10, a season that usually extends until the state championship in early March. However, due to COVID, MIAA decided not to hold the state championships. They did not think it would be safe to gather hundreds of athletes at one venue.
In the race pictured, Matt Keene from BC High won the race for boys, and Jaycee Waal from Hingham took the win for the girls. As for other Hingham results, Trevor Buckeridge and Audrey Cole took second for boys and girls, and John Sherwood took fourth for the boys.
In ski racing, the top five finishers from each team count towards the team total. Although team results are not officially recorded this year as the league has been split up for some races, BC High won for boys, and Hingham won for the girls.
Even though the Hingham girls will not get a chance to defend their state title a second time this year, they have been strong within the league, winning every race so far. It has been a good season for both Hingham boys and girls, each team collecting wins, and hopefully, they will collect two more this week.